Let's Talk Red Superfood Supplements
Red Superfood Powders were introduced to the market after the success of their sister product, Green Superfood Powders. People realized how these products made it so simple to increase their daily intake of vitamins, minerals and other nutrients from food-based sources. Based on the principles that food is medicine, it was realized that there were many other plant-based ingredients that we could add to our diet to increase our health and wellness.
Red superfood supplements are an excellent way to get a concentrated dose of powerful plant-based antioxidants in a convenient single serving, with no prep required. Red Superfood Powders focus primarily on providing a potent dose of the antioxidants we find in our foods, that give them their bright colors. Such as anthocyanins in fruits and vegetables that are red, purple or blue in color.
Antioxidants have numerous benefits. Some of these benefits include helping the body fight off damaging free radicals and even reducing the risk of certain diseases. Red Superfood Powders are an excellent addition to any healthy diet, either partnered with a GreensSuperfood Powder, or on their own.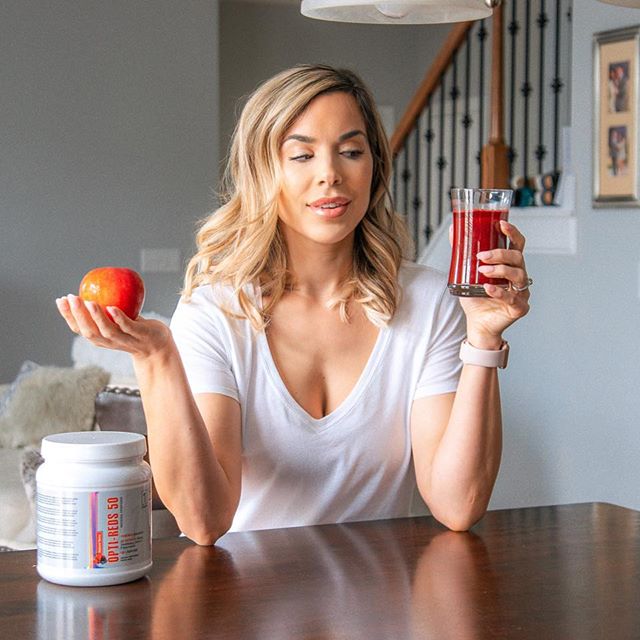 What is Opti-Reds 50?
Opti-Reds 50 is one of the most delicious, effective and comprehensive red superfood powders on the market. Opti-Reds 50 contains 50 hand-selected ingredients that are renowned for the powerful antioxidant effect. This special blend of brightly colored fruits, vegetables and herbs provide you with all the nutrients you need to feel your very best.
Opti-Reds 50 was created to help your body fight free radicals and oxidative stress, increase your cardiovascular health, boost your metabolism and support your immune system, amongst numerous other benefits. Opti-Reds 50 has 3 different ingredient blends that comprise the product: The PhytoPhorm Antioxidant Complex, Cardio Health Blend and Digestive Aid Blend. We will discuss these more in detail below.
Opti-Reds 50's PhytoPhorm Antioxidant Complex contains the majority of the product's ingredients. All of these ingredients are hand-chosen to provide you with the broadest spectrum of antioxidants on the market.
Antioxidants help the body to fight free radicals and oxidative stress, which the body is faced with on a daily basis. When our body is able to fight off free radicals, you are able to optimize more nitric oxide production (free radicals destroy nitric oxide). It is very important for the body to have high levels of nitric oxide because it improves the blood flow through the body. Therefore improving cognitive function, regulating your blood pressure, improving your immune system and even contributing to better athletic performance.
In addition to these amazing effects, Opti-Reds 50 can also help you meet your weight loss goals. The ingredients in the PhytoPhorm Antioxidant Complex help to drastically decrease inflammation in the body, which is helpful for weight loss goals. When inflammation is decreased, healthy cellular activity is increased which boosts your overall metabolism. In addition to weight loss benefits, increased cellular activity can also reduce signs of aging and naturally boost your energy levels.
In addition to all the benefits of the PhytoPhorm Antioxidant Complex, Opti-Red 50 also includes the Cardio Health Blend. The Cardio Health Blend is made of Beet, Sweet Potato, and Cabbage. Beets are a good source of betaine and folate which work together to decrease levels of homocysteine, therefore lowering your risk for heart disease.
Sweet potatoes have high levels of potassium, which can help you excrete more sodium, therefore lowering your blood pressure. Cabbage is high in antioxidants, like the ingredients in the PhytoPhorm Antioxidant Complex, so it helps to reduce inflammation and improves blood flow in the body.
Finally, Opti-Reds 50 is rounded out with their Digestive Aid Blend with AncienTrim™ is made with a blend of quinoa, amaranth, chia, millet, and buckwheat and provides you with healthy fiber, protein, and essential amino acids, which are all necessary for a healthy digestive tract. This blend also features apple fiber for an additional dose of gut-healthy fiber. High fiber diets promote GI health, regular bowel movements, help lower cholesterol and normalize blood sugar levels.
Benefits of Taking Opti-Reds 50:
• Increase your overall health and wellness due to a concentrated dose of bioavailable antioxidants, vitamins, and minerals
• Increase your immunity-Help your body fight off free radicals and oxidative damage in order to function its best
• Boost your metabolism at a cellular level
• Optimize nitric oxide production-Helps with cognitive function and exercise performance
• Decrease inflammation in your body which will aid weight loss goals and decrease joint pain, amongst other benefits
• Increase energy levels
• Numerous cardiac health benefits including increased blood flow and regulating your blood pressure
The Results
After 1 month of use, we saw an increase in our energy levels throughout the day. In addition, we found ourselves having fewer cravings for unhealthy food choices, which was a pleasant surprise. The Opti-Reds 50 tastes like a treat itself and seemed to help keep cravings at bay. Due to this, I definitely noticed some weight loss benefits.
But it's hard to say if it was because of the impact it had on my metabolism or the fact that I was making healthier choices. I am not someone who suffers from high blood pressure or has a history of heart conditions, so I cannot comment on the cardiac benefits.
I also noticed my skin is clear and brighter. Taking Opti-Reds 50 has been an easy addition to my morning routine. Overall, the experience with the product has been extremely positive.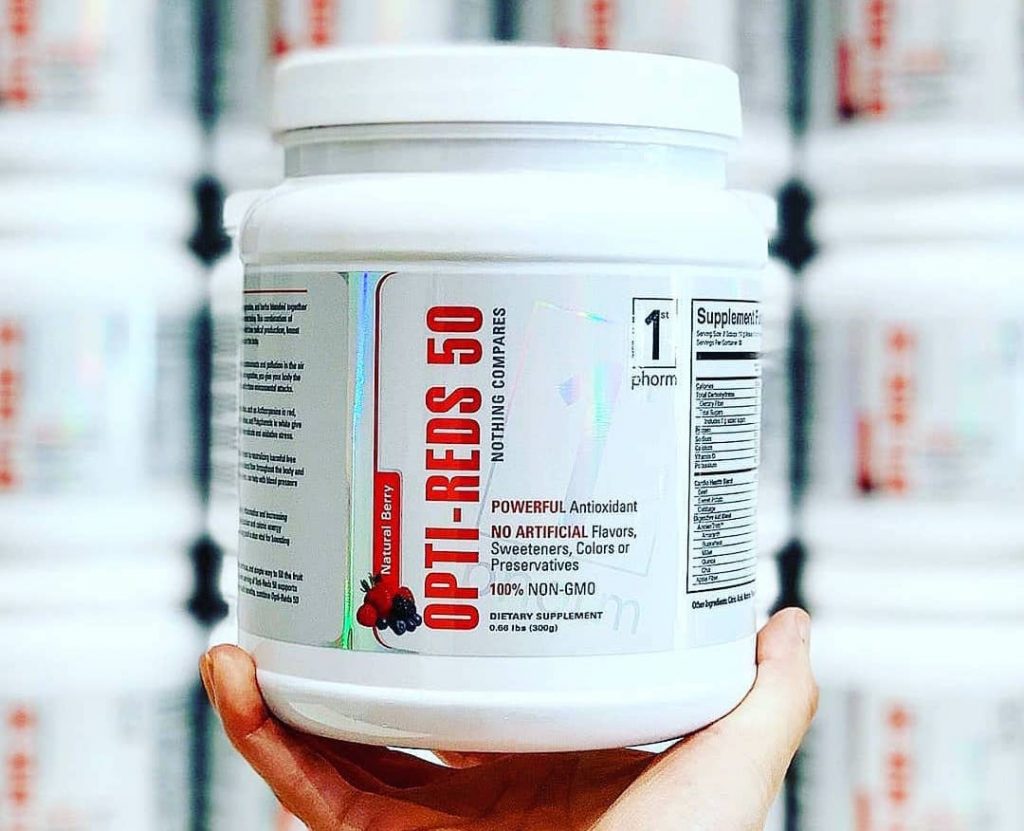 Who is it For?
• Anyone looking to easily increase the nutritional value of their current diet
• Anyone looking to boost their intake of antioxidants
• Anyone looking to boost their immune system and support their overall health
• Anyone looking to support their heart health
• Anyone looking to decrease inflammation in their body
• Anyone looking for help meeting their weight loss goals, and to increase their exercise performance
• Anyone looking to boost their cognitive function and overall energy levels
• Anyone searching for vegan-friendly supplements
Who Makes Opti-Reds 50?
Opti-Reds 50 is made by 1st Phorm, a premier supplement brand in St. Louis, MO. The company was founded by Andy Frisella and Chris Klein. 1st Phorm has been a leader in the supplement industry for years, which is evidenced by their loyal league of followers called legionnaires. CEO, Andy Frisella created the company because he was tired of all the cheaply made, poor quality supplements he had seen on the market and he wanted to make a difference in the industry.
1st Phorm is a company built on integrity and they spare no expense to ensure that their product is the absolute best on the market. They source all of their top-grade, pure ingredients themselves and work with a team of Ph.D. chemists and formulators to ensure the perfect formulation. Most importantly, 1st Phorm pays to have an FDA SQF Level-3 inspected facility to manufacture their product in, which is considered the "gold standard" in this industry.
1st Phorm prides itself on being the best in the industry and their product truly speaks for itself.
What Opti-Reds 50 Is Made Of
Opti-Reds 50 has an impressive list of ingredients formulated to give your body a broad spectrum of the most potent antioxidants. 1st Phorm is committed to the use of quality formulations and promises that you won't find any fillers in any of their products. They simply use the highest quality ingredients in their right doses, proven to be most efficacious.
In addition, Opti-Reds 50 contains only low-temperature processed ingredients, which is done to ensure maximum bioavailability of their nutrients. The product is also 100% GMO-free.
Here is a detailed list of the ingredients of Opti-Reds 50:
PhytoPhorm Antioxidant Complex, 1,058 mg Spectra™: Coffea Arabica Extract, Green Tea Extract, Broccoli Sprout, Onion Extract, Apple Extract, Quercetin, Acerola Extract, Tomato, Broccoli, Acai, Basil, Cinnamon, Garlic, Oregano, Turmeric, Carrot, Elderberry, Mangosteen, Camu Camu, Blackberry, Blackcurrant Extract, Blueberry Extract, Raspberry, Spinach, Chokeberry, Kale, Sweet Cherry, Bilberry Extract, Brussels Sprout.Banana, Cranberry, Grape Seed Extract, Apricot, Kiwi, Mango, Orange, Pineapple, Strawberry, Tart Cherry, Goji, Pomegranate
Cardio Health Blend, 6166 mg: Beet, Sweet Potato, Cabbage
Digestive Aid Blend with AncienTrim™, 940 mg:
AncienTrim™ (Amaranth, Buckwheat, Millet, Quinoa, Chia), Apple Fiber
Safety & Side Effects
As long as you take the recommended daily dose of Opti-Reds 50, it would be rare to experience any negative side effects. The product is made out of all-natural high-quality ingredients and does not contain any harmful additives.
However, Opti-Reds 50 was formulated for adults and should not be taken by children. 1st Phorm does offer an Opti-Reds 50 style supplement for children here.
Disclaimer: If you have a weakened immune system, are pregnant or breastfeeding, take prescription medications or are suffering from any medical conditions, please seek medical advice before taking any new supplements.
How to use Opti-Reds 50
Simply put two scoops of Opti-Reds 50 powder into eight ounces of the liquid of your choice (water, juice, etc.) and mix to combine. It is recommended to drink Opti-Reds 50 immediately after mixing. Each tub of Opti-Reds 50 contains 30 servings of the product.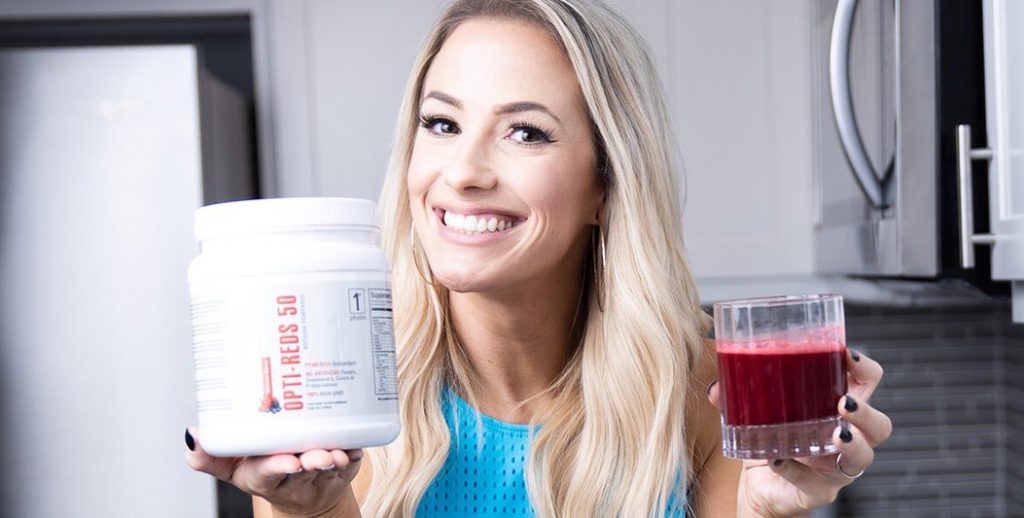 First Impressions and Taste
The Opti-Reds 50 packaging is bright white and very clean looking. It gives a clear description of the product and its many benefits. Upon opening the product, you are greeted with the aroma of fresh berries right away, due to the low-temperature processing.
One of the first things we noticed was the bright red color of the powder. Did you know that different antioxidants are responsible for giving fruits and vegetables their bright colors? I could tell how rich this product was in anthocyanin (the antioxidant in red, blue and purple produce that give them their color) due to the vibrant hue of red.
We mixed up the recommended serving size of two scoops of Opti-Reds 50 in eight ounces of water. The product mixes easily with the water in a blender bottle. The consistency was smooth, without any clumping of the product. We were especially impressed with the taste of Opti-Reds 50 – it's delicious! It has a strong berry flavor that is a little sweet and also tart. We have heard some people compare the taste to raspberry jam, and we have to agree. We looked forward to having our Opti-Reds 50 every morning due to the delicious and refreshing taste.
TIP: Our favorite way to drink Opti-Reds 50 is to add 2 scoops of 1st Phorm's Opti-Greens 50 and then simply mix them up with water in a blender cup. The addition of the Opti-Reds 50 to the Opti-Greens 50 hides all of the grassy flavor typically associated with greens, and gives you all the additional benefits of a green superfood powder. You can save some money by purchasing Opti-Greens 50 and Opti-Reds 50 together here.
"Awesome taste. I have definitely noticed a change in my body and how I feel since taking Opti-Reds. The taste is great and I look forward to taking it each morning. I definitely notice a difference when I don't." – Ashlee Kinas
Pros
• Numerous health benefits, which include immune-boosting effects, heart health benefits, decreased inflammation, increased metabolism and much, much more
• Much easier and more convenient than trying to eat so many servings of plant-based sources of antioxidants in your diet
• More comprehensive than a majority of the red powders on the market
• Delicious taste
• High-quality ingredients that are low-temperature processed to retain optimal bioavailability
• Crafted with care in the USA by a trustworthy manufacturer who ensures the quality of its products
• Hundreds of positive customer reviews
Cons
• Opti-Reds 50 does not have a fat source, which makes it difficult to reap all the benefits of certain nutrients and fat-soluble vitamins. However, this can be addressed by taking your daily dose with a fat source e.g. blending it into a smoothie with some avocado, nut butter etc.
• Not a necessary addition to your wellness routine, may be able to supplement a large amount of the antioxidants via your diet
• This product is not suitable for anyone with celiac disease or severe gluten intolerance, as the AncienTrim™ may contain traces of gluten
• More expensive than a majority of other red powders on the market (however, not the most expensive)
• Recommended to be taken with Opti-Greens 50 which also increases the cost
• Does not contain any digestive enzymes or probiotics (1st Phorm recommends that you take Opti-Reds 50 with Opti-Greens 50 which contains both of these ingredients)
Is it worth the price?
Opti-Reds 50 costs $59.99 for a 30 day supply. Which means it costs around $2/per day. You also have the option to subscribe and save. The monthly subscription fee is $54.99/per month which is a savings of about $5 per month. In addition to saving money, having a subscription is convenient and ensures that you will never run out of the product. Opti-Reds 50 is by no means the cheapest reds powder on the market, but it is also not the most expensive.
When you break it down, it would be both extremely difficult to consume all of these separate ingredients in your regular diet, in addition to being very expensive. When you take that into consideration, it helps to justify the cost of the $2/per day.
That being said, this still isn't an inexpensive supplement, so it will depend on your personal health goals to determine if this supplement is worth it for you. Another thing to take into consideration is that it is recommended to take the Opti-Reds 50 with the Opti-Greens 50. The Opti-Health Stack (which is a 30-day supply of both Opti-Reds 50 and Opti-Greens 50) costs $119.98 (or $109.99 if you subscribe).
This is definitely not an inexpensive bundle, however, combining the two products really provides you with the best possible results, rather than taking either one alone.
Customer Experience and Return Policy
You can tell 1st Phorm is a brand that cares deeply about its customers. Every order comes with a handwritten note on the invoice, which is a thoughtful personal touch. 1st Phorm offers a 110% money-back guarantee on all of their products, no questions asked.
We have been so pleased with all our 1st Phorm products that we have not had to use this service, however, it's reassuring to purchase from a company that stands behind their products like 1st Phorm does.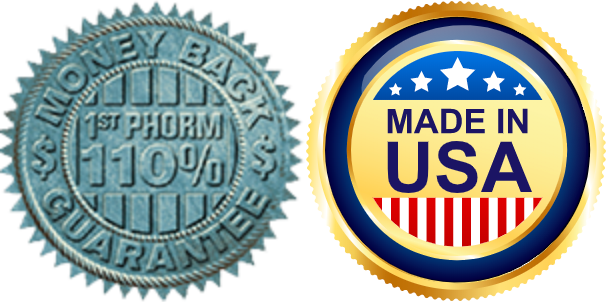 Customer Reviews
Opti-Reds 50 is rated 5 stars based on 608 positive reviews on the 1st Phorm website. Here area few examples of these positive reviews:
"I have been using Opti-Greens for over a year in combination with the Reds and some BCAA's and I can honestly say it has kept my family healthy! Our inflammation is down and immune systems are up and running correctly! I feel it has aided as well in digestion and overall health. My three-year-old son even wakes up in the morning reminding us to 'make greens to drink' as he says. The quality and service behind this product is bar to none. And the last several times I have ordered, my son has also enjoyed the protein bar that was thrown in as well!" – Tracey Lynn Holmes
"This product mixed with the opti greens will change your life. Skins issues to bloating and gut health. Seriously a life changer. If you are on the fence try it…you won't regret it!" – Jessica Chisum
"I started taking the opti reds last week, and I'm hooked! It only took two days and I've noticed how bloated I was, and how not bloated I am now! My energy levels have increased and I've been more active! I'm also an extremely picky eater, and I hate most supplements/powders, but this taste is out of this world. I'm drinking it as we speak actually, I can't go without them now!" – Amanda Luzzi
"10/10 recommend. This product has become an essential product to my day to day routine ! Love the effects ! Feel amazing after consuming every time ! Helps aid in inflammation and helped improve my metabolism!" – Michelle Murillo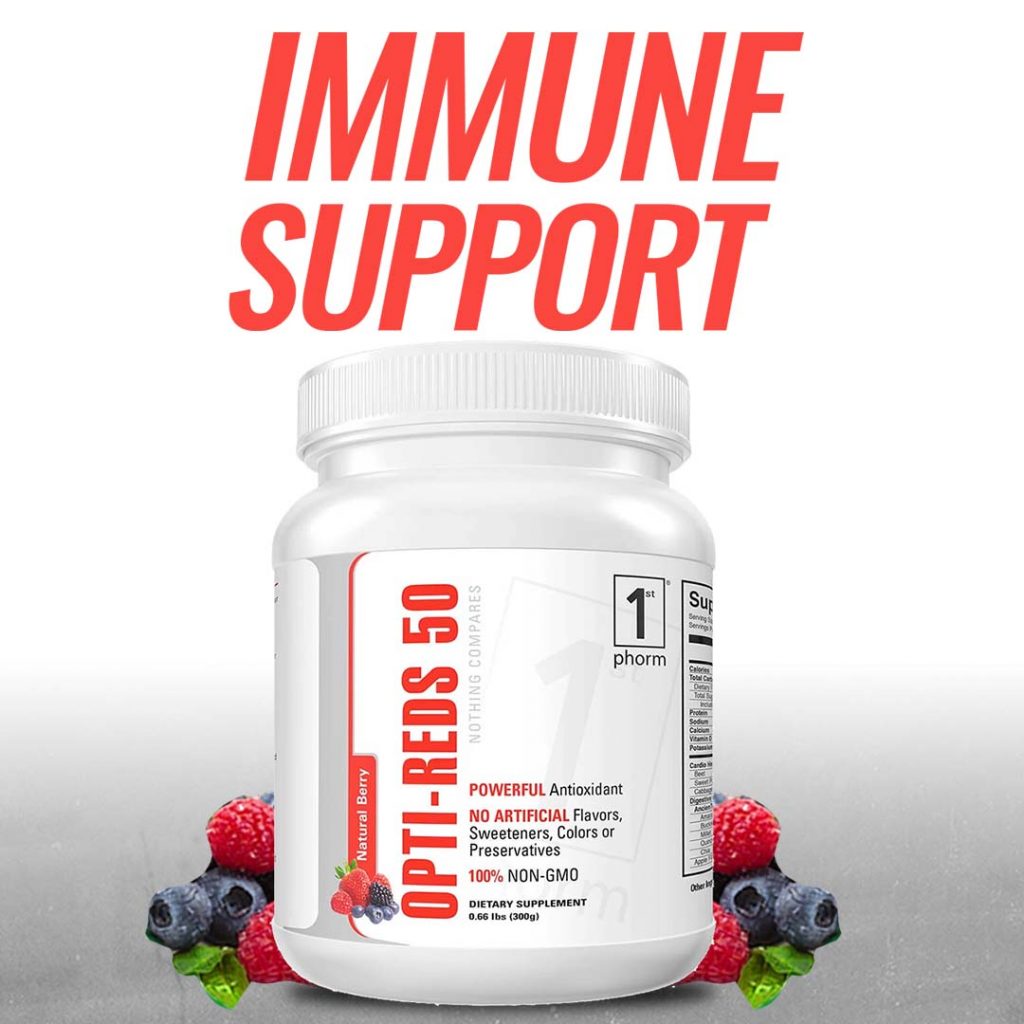 Where to buy?
Opti-Reds 50 is available exclusively through 1st Phorm's website!
Final Verdict
Opti-Reds 50 is an easy to use, delicious, red superfood powder that would be an excellent addition to anyone's daily routine to boost your health and wellness.
This comprehensive collection of antioxidants provides numerous health benefits from immune to cardiac health. Although Opti-Reds 50 is more expensive than most options on the market, it provides incomparable quality and results, especially when paired with Opti-Greens 50.
Rating: 4.7 out of 5 stars