Let's Talk Green Superfood Supplements
Studies show that it is ideal to get your daily dose of vitamins and minerals from food-based sources. Although eating a healthy diet is at the forefront of most of our minds, at times it can be difficult to ensure that we are getting all the nutrients that our body needs.
Green superfood supplements are an excellent way to get a concentrated dose of plant-based nutrients in a convenient single serving, with no prep required. Whether you use green superfood powders to amplify an already healthy diet. Or, to increase your daily dose of healthy greens – you cannot go wrong adding one of these nutrient powerhouses to your daily routine.
What is Opti-Greens 50?
Opti-Greens 50 is one of the most complete green superfood powders on the market. It provides you with all the nutrients you need to feel your very best, in one simple serving size. Opti-Greens 50 was created to improve your immunity, digestive health, decrease bloating, balance blood sugar, support metabolic health and boost energy levels, amongst numerous other benefits.
Through its unique blend of 50 premium ingredients, the nutrients in this product are hand-chosen to help support all your wellness goals. Plus, all of these ingredients are low-temperature processed to retain their highest levels of naturally occurring nutrients. By ensuring the ingredients are processed at low temperatures they have optimal bioavailability, which means that your body will be able to get the most benefit from them possible.
Opti-Greens 50 has 5 different ingredient blends that comprise the product: The Green Superfood Complex, Phytonutrient Complex, Glycemic Balance Blend, Plant Enzyme Blend, and Probiotic Blend. We will discuss these more in detail below.
Opti-Greens 50's Green Superfood Complex & Phytonutrient Complex are filled with plant-based nutritional powerhouses that will provide you with the same amount of vitamins and minerals as a 2oz green juice. These complexes have been thoughtfully curated to target numerous health concerns. The Phytonutrient Complex is filled with powerful antioxidants and other immune-boosting ingredients such as elderberry, which will strengthen your body's natural immunity.
Studies have shown that chronic inflammation can link to multiple illnesses and even weight gain, so Opti-Greens 50 includes ingredients, such as curcumin, which are proven to decrease inflammation. These blends also include chlorophyll which detoxifies the blood and balances the pH in your body. A unique feature of Opti-Greens 50 is its proprietary Glycemic Balance Blend, which will help to regulate your body's glycemic response.
Studies have shown that regulating your body's glycemic response can help with weight loss and has many benefits for your overall health. In addition, keeping your blood sugar balanced can give you lasting energy, without the crash. Opti-Greens 50's Glycemic Balance Blend contains ingredients such as rice bran ( which is also a prebiotic) and the antioxidant alpha-lipoic acid, which studies have shown can lower blood sugar levels.
Opti-Greens 50 is rounded out with their Plant Enzyme Blend & Probiotic Blends which include 1 Billion CFU of 10 hand-selected strains of good bacteria and 16 digestive enzymes to promote good digestive health. These blends which help you to break down and digest food more efficiently and therefore prevent bloating. These blends are important to ensure that you are able to break down these nutrients, so your body can reap all their benefits. In addition, your gut plays an important role in your immune health, so these ingredients also lend to the immune-boosting effect of Opti-Greens 50.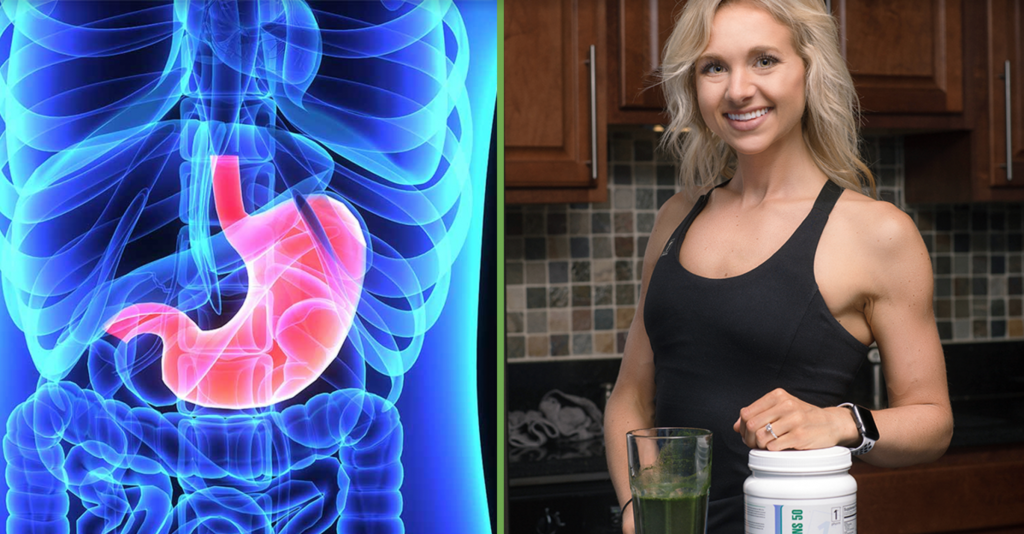 Benefits of Taking Opti-Greens 50:
• Increase your overall health and wellness due to a concentrated dose of bioavailable vitamins and minerals
• Promotes digestive health and decrease bloating with the help of the Plant Enzyme and Probiotic Complex
• The Phytonutrient Complex has a concentrated dose of powerful antioxidants (carotenoids and bioflavonoids) that protect the body from free radicals
• Elderberry, antioxidants, and other key nutrients to support a healthy immune system
• Curcumin, among other ingredients, decreases inflammation in the body and helps to alleviate joint pain
• Chlorophyll cleanses the blood and helps to balance the pH level of your body
• Increased energy, with more stable energy levels throughout the day
• The Glycemic Balance Blend helps the body maintain a more stable blood sugar levels which can lead to weight loss and utilize your carb intake
The Results
After 1 month of use, we definitely saw a decrease in bloating and an increase in our energy levels throughout the day. Our digestive health seems more "regular" since adding Opti-Greens 50 into our routine.
In addition, we have been taking Opti-Greens 50 during flu season and have yet to get sick, so it appears that it has been supporting our immune function. Taking Opti-Greens 50 is an easy addition to a morning routine that ensures maximum results with minimum effort. Overall, the experience with the product has been extremely positive.
Who is it For?
• Anyone looking to easily increase the nutritional value of their current diet and/or their daily intake of healthy greens
• Anyone looking to boost their immune system and support their overall health
• Anyone looking to support their digestive health and decrease bloating
• Anyone looking to boost their intake of antioxidants
• Anyone looking to support a healthy glycemic response in their body
• Suitable for a vegan diet
• Suitable for a ketogenic diet, Opti-Greens 50 has 4 net carbs.
Who Makes Opti-Greens 50?
OptiGreens-50 is made by 1st Phorm, a premier supplement brand in St. Louis, MO. The company was founded by Andy Frisella and Chris Klein. 1st Phorm has been a leader in the supplement industry for years, which is evidenced by their loyal league of followers called legionnaires.
CEO, Andy Frisella created the company because he was tired of all the cheaply made, poor quality supplements he had seen on the market and he wanted to make a difference in the industry. 1st Phorm is a company built on integrity and they spare no expense to ensure that their product is the absolute best on the market. They source all of their top-grade, pure ingredients themselves and work with a team of PhD chemists and formulators to ensure the perfect formulation.
Most importantly,1st Phorm pays to have an FDA SQF Level-3 inspected facility to manufacture their product in, which is considered the "gold standard" in this industry. 1st Phorm prides itself on being the best in the industry and their product truly speaks for itself.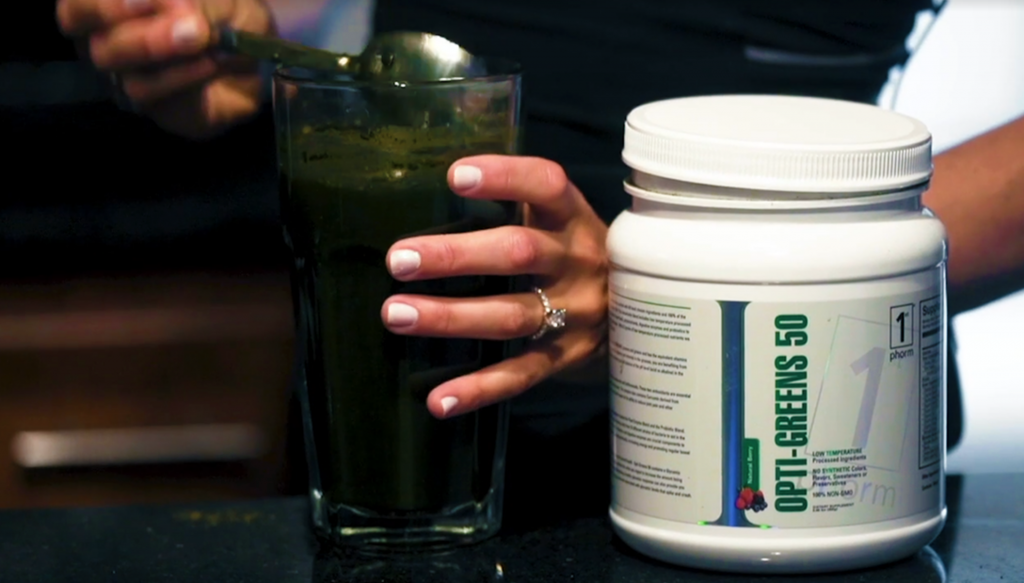 What Opti-Greens 50 Is Made Of
Opti-Greens 50 has an expansive ingredient list formulated to address numerous aspects of your health wellness. 1st Phorm is committed to the use of quality formulations and promises that you won't find any fillers in any of their products.
They simply use the highest quality ingredients in their right doses, proven to be most efficacious. Opti-Greens 50 contains only low-temperature processed ingredients, which is done to ensure maximum bioavailability of their nutrients. Although the product is not marketed as organic, a majority of the ingredients are certified organic. In addition, the product is also 100% GMO-free.
Here is a detailed list of all the ingredients in Opti-Greens 50:
Green Superfood Complex (6,180mg): Organic Barley Grass, Organic Spirulina, Organic Wheatgrass, Organic Alfalfa Grass, Organic Oat Grass, Organic Kale, Organic Spinach, Organic Parsley, Broccoli Extract
Glycemic Balance Blend (2,224mg): Soluble Rice Bran, Stevia, Grape Seed Extract, Alpha Lipoic Acid, Cinnamon (Cinnamomum cassia) Extract, Green Tea (Camellia sinensis) Extract
Phytonutrient Complex (430mg): Organic Beet Juice, Raspberry, Curcumin (from Organic Turmeric Root), Citrus containing Bioflavonoids, Wild Blueberry Extract, Strawberry, Cranberry, Wild Bilberry Extract, Elderberry Extract, Raspberry Seed Powder
Plant Enzyme Blend (200mg): Amylase, Amylase II, Protease I, Protease II, Peptidase, Peptizyme-SP®, Lipase, Cellulase, HemiSEB®, Lactase, Maltase, Invertase, Papain, Bromelain, Rutin, AMLA
Probiotic Blend (1 Billion CFU): DDS-1 L. acidophilus, B. bifidum, B. longum, L. bulgaricus, L. plantarum, L. rhamnosus, L. salivarius, S. thermophilus, L. reuteri
Safety & Side Effects
As long as you take the recommended daily dose of Opti-Greens 50, it would be rare to experience any negative side effects. The product is made out of all-natural high-quality ingredients and does not contain any harmful additives.
However, Opti-Greens 50 was formulated for adults and should not be taken by children. 1st Phorm does offer an Opti-Greens 50 style supplement for children here.
The only ingredient in Opti-Greens 50 that may cause a minor side-effect is probiotics, which on occasion can cause digestive discomfort. However, in general, probiotics are well tolerated and considered safe.
Disclaimer: If you have a weakened immune system, are pregnant or breastfeeding, take prescription medications or are suffering from any medical conditions, please seek medical advice before taking any new supplements.
How to use Opti-Greens 50
Simply put two scoops of Opti-Greens 50 powder into eight ounces of the liquid of your choice (water, juice, etc.) and mix to combine. It is recommended to drink Opti-Greens 50 immediately after mixing. Each tub of Opti-Greens 50 contains 30 servings of the product.
First Impressions and Taste
The Opti-Greens 50 packaging is bright white and very clean looking. It gives a clear description of the product and its many benefits. Upon opening the product, you are greeted with the aroma of fresh grass right away, due to the low-temperature processing.
We mixed up the recommended serving size of two scoops of Opti-Greens 50 in eight ounces of water. The product mixes easily with the water in a blender bottle. The consistency was smooth, without any clumping of the product. Green powders, in general, are not known to be a very pleasant tasting. However, as far as greens powders go Opti-Greens 50 has a nice, mild grassy taste, with a hint of natural berry flavor.
We prefer how the flavor of the Opti-Greens 50 isn't masked under an overly sweet and synthetic tasting sweetener like other brands. This makes Opti-Greens 50 an excellent addition to any green smoothie, as it blends well and becomes undetectable amongst the other flavors. Opti-Greens 50 mixes well with water in a blender bottle and can also be mixed with fruit juices to add more of a sweet taste.
TIP: Our favorite way to drink Opti-Greens 50 is to add 2 scoops of 1st Phorm's Opti-Reds 50 and then simply mix them up with water in a blender cup. The addition of the Opti-Reds 50 gives the blend a delicious raspberry flavor (and also gives you the additional benefits of the Opti-Reds 50). You can save some money by purchasing Opti-Greens 50 and Opti-Reds 50 together.
"Truly the best tasting greens supplement in the market! Doesn't have a bad "im eating grass" taste and easy to drink." – James Davis
Pros
• Numerous health benefits
• Much easier than trying to eat so many servings of greens/superfoods in your diet
• More comprehensive than a majority of the green powders on the market
• Many additional benefits not found in typical greens supplements thanks to their proprietary blend of ingredients (Phytonutrient Complex, Glycemic Balance Blend, Probiotic Blend and Plant Enzyme Blend)
• Pleasant taste
• High quality ingredients that are low-temperature processed to retain optimal bioavailability
• Crafted with care in the USA by a trustworthy manufacturer who ensures the quality of its products
• Thousands of positive customer reviews
Cons
• Opti-Greens 50 does not have a fat source, which makes it difficult to reap all the benefits of certain nutrients and fat-soluble vitamins. However, this can be addressed by taking your daily dose with a fat source e.g. blending it into a smoothie with some avocado, nut butter etc.
• This product is not suitable for anyone who is gluten-intolerant, as the product contains wheat
• More expensive than other green powders (although not the most expensive option on the market either)
• If you eat a clean plant-based diet you may already get a majority of the micronutrients from your diet
• Not quite as comprehensive as some of the more expensive options on the market (e.g. no adaptogenic mushrooms)
Is it worth the price?
Opti-Greens 50 costs $59.99 for a 30 day supply. Which means it costs around $2/per day. Opti-Greens 50 is by no means the cheapest greens powder on the market. However, it is still a good value, when you consider all the high quality ingredients and health benefits that you are getting in this product.
With Opti-Greens 50 you get the additional benefits of the Phytonutrient Complex, Glycemic Balance Blend, Plant Enzyme Blend and Probiotic Blend, which you will not find in less expensive options. This means that Opti-Greens 50 can take the place of a multivitamin, digestive enzyme, antioxidant supplement and probiotic in your wellness routine.
When you think of all those benefits, Opti-Greens 50 is definitely worth the $2/per day price tag. You also have the option to subscribe and save. The monthly subscription fee is $54.99/per month which is a savings of about $5 per month. In addition to saving money, having a subscription is convenient and ensures that you will never run out of the product.
Customer Experience and Return Policy
You can tell 1st Phorm is a brand that cares deeply about its customers. Every order comes with a handwritten note on the invoice, which is a thoughtful personal touch. 1st Phorm offers a 110% money-back guarantee on all of their products, no questions asked.
We have been so pleased with all our 1st Phorm products that we have not had to use this service, however, it's reassuring to purchase from a company that stands behind their products like 1st Phorm does.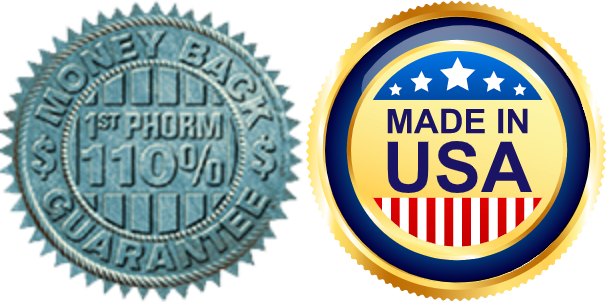 Customer Reviews
Opti-Greens 50 is rated 5 stars based on 6228 positive reviews on the 1st Phorm website. Here are a few examples of these positive reviews:
"Opti-greens are a vital part of my everyday routine! I have a lot of stomach issues and Opti-greens help with digestion and bloating. They help me feel great as well as keep me healthy with vitamins and nutrients. I've tried a lot of different greens and Opti-greens by far tastes the best!" – Krissa Beeker
"I started using this product as recommended by a friend who uses it everyday for overall healthand also for bloating. I personally experience bad bloating day to day with normal eating and have always had stomach issues my whole life. My gut health overall feels so much better with this product and I completely notice if I miss a day!" – Angela
"If I could only take one supplement this would be the one. It is absolutely loaded with all kinds of good stuff and I can tell a noticeable difference in how I feel when I take it. One of the biggest benefits I have found personally, is how much better my gut feels and I have zero bloating when I take this supplement. Another big plus is the taste. I wouldn't expect something this healthy to taste this good. I love it!" – Jese Vance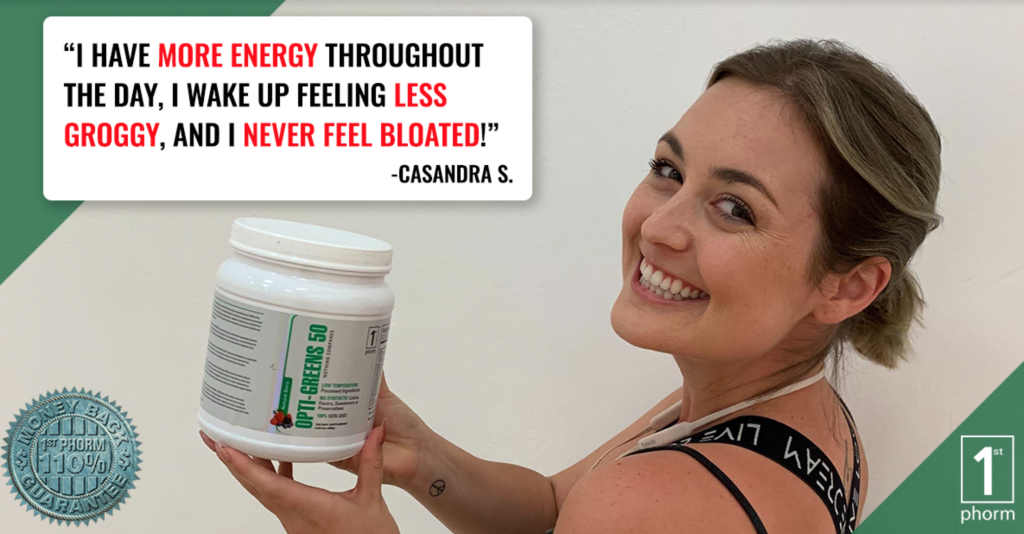 Where to buy?
Opti-Greens 50 is available exclusively through 1st Phorm's website!
Final Verdict
Opti-Greens 50 is an easy to use green superfood powder that would be an excellent addition to anyone's daily routine to boost your health and wellness.
At $2/per day, it is worth the price for the numerous health benefits it provides.
Rating: 4.8 out of 5 stars